ABOUT ME - BILL KINNAIRD (Family #02)
Many folk have been asking about me and where I come from. I'm not really one to talk about myself, but for those who are interested - here we go.......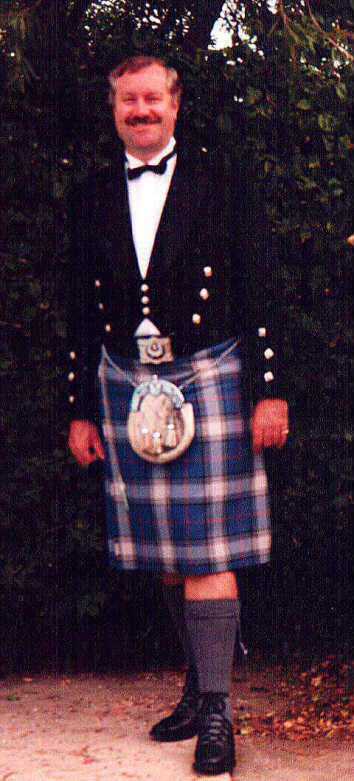 I was born 28 May1952 in Salisbury, Rhodesia - now Harare, Zimbabwe. My mother and father, both from Kirkcaldy, Fife, Scotland, left for Rhodesia just after they were married. My two brothers and two sisters and I were all born in Salisbury. My father owned a tobacco farm two hours outside Salisbury. He also grew maize and ranched Aberdeen Angus cattle. He later sold the farm and moved into the "big smoke" to run a big night club business - quite a change from rearing cattle, though there were times when I thought the night club was bit like a cattle market !!. All my schooling days, from the age of five were spent at a boarding school. My first school was a farm school and the main thing I can remember about this school was that in the mornings, the first 20 kids to get out of bed, wash and dress, went to see the cows being milked and the pigs being fed - this must have been the highlight of the day....the rest of my schooling days weren't as exciting !!
I left Rhodesia before independence in 1977 and headed to Fife, Scotland. I worked in the Fife Sports Centre in Glenrothes as a swimming pool attendant. At the same time I went to the nearby technical college to study Electrical and Electronic Engineering. This course allowed me enter Dundee University and get my Bachelor of Science degree in Electrical and Electronic Engineering. After this I worked for BP Exploration in Aberdeen. I spent quite a bit of time working on communication projects on the oil production platforms in the North Sea.
It was while I was visiting an elderly uncle of mine in Kirkcaldy, that I got the "bug" to trace my family tree. The stories of his grandfather's way of life and other interesting facts really made me think about my ancestors and where they came from.
In 1991, I decided to give up the U.K. weather and get back to a better way of life, with better weather and living conditions. Australia was the place for me. My first job was with Northern Telecom (a Canadian company - now called Nortel). I was a switch installation manager. I was required to travel around Australia's main capital cities installing large DMS switches for the second communications carrier, Optus. This was a great way to see my new country and have someone else pay for it. After this had finished, I was given another installation assignment in Hai Phong, Vietnam. During my stay in Vietnam I was also give an installation task in Mandalay, Burma. After living in Vietnam and Burma for one year, I had had enough of the bureaucracy, kick-backs and rats in the bedroom and returned to the comfortable life in Sydney. Although the conditions in Vietnam were fairly harsh (for a soft-foot westerner), there were some good times and even today I think back to those times.
Shortly after returning from Vietnam in 1995, I left Nortel to work for a telecommunications company in Sydney as a Project Manager and Procurement Executive. After 6 years I realised that working in the corporate world wasn't what I really wanted to do and decided on a "sea change", which brought me into the Community/Social Welfare arena as a volunteer. Not knowing in which field I wanted to work, I initially helped the homeless and eventually became more and more involved with people with an intellectual disability. Most of my time is now taken up as a Citizen Advocate for two young men, who have had very tough lives in institutions and uncaring service providers.
It was about 1995, during my investigations into my family tree, that I realised that the Kinnaird family was really fragmented and needed something to help bring the world-wide family together. The internet had just started and I thought that this would be the best way to get the Kinnaird families talking to one another.
My intentions for the information gathered for the various Kinnaird families are that they will eventually end up with as many Family History Centre and libraries that I can manage to contact. GEDCOM files will also be handed over to the Mormon Church for their Ancestral Files. This way future generations should find it fairly easy to establish their family ancestors. Your help is greatly needed for me to complete my goal. Looking forward to hearing from you.